Friday, November 10, 2006
Kazakhstan's sixth most famous man Borat, came to be no.1 in the US Box-office with the movie Borat: Cultural Learnings of America for Make Benefit Glorious Nation of Kazakhstan
on the US-charts.The movie
Pinoy Blonde
would have achieved the same prestige as
Borat
if only
Mang Pandoy
took the lead.
***********************
Bryanboy
, a Filipino, sparked some controversies on a blog entry he made. It depicts a Brit guy holding a bag and saying Jesus is our fuckin homeboy! Such a confused fellow we should pray for. He even has issues about his name...isn't "Bryangay" more appropriate?
***********************
The
MMDA
(Metro Manila Development Authority) instructed billboard owners to take down their infrastuctures due to the hazards it imposes to motorists. After a few days past the super typhoon
Milenio
, you could see people taking these billboards down. If you ever pass by EDSA-Guadalupe you'd see the tarps already taken out, while some are neatly rolled down. But the steel frames are still present.
Reminder: The tarps are not the one causing extreme damage but the steel frames, don't you think?
It's been months....
***********************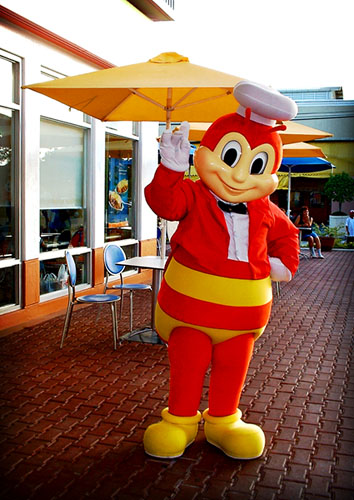 A you-tube post Jollibee Scandal made JFC(

Jollibee Foods Corporation

) execs furious when they saw Twirlie and Jollibee mascots seeming to depict sex acts. Finding the employees responsible for the action, they were terminated immediately.
Give the bee a break. He's now on his puberty age and just wants to sow some pollen.


On the brighter side, at least we could now confirm Jollibee's gender.


***********************
NBI(

The National Bureau of investigation

) denies the accusation of giving Charlie

Atong

Ang a VIP treatment during his arrival. And they got

50 security escorts

to prove it.


0 Comments: