Thursday, November 09, 2006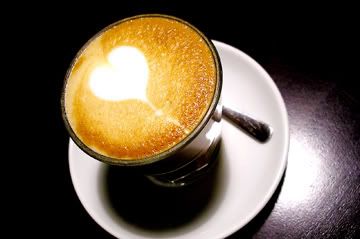 Have you been bitten by the rush?
There's a Filipino myth that when a a young person already drinks coffee he/she won't grow up to his/her potential. Which is why at an early age I was not allowed to drink it, leaving me with no other choice but choco.
During the late 70's and eary 80's you could hear people proudly say "...yes, he even took me out for a coffee at the
Manila Hotel
," Probably due to the extravagant price of coffee at that place, coffee became a recreational activity and at the same time a status symbol. But nowadays, coffeeshops grew like mushrooms. So when you're going to meet someone, this came to be the best place. Or when you don't wan't to be disturbed, want to enjoy bossa, read a book, and all the hundred personal reasons we find ourselves heading for that cold cup of iced latte, or the brewing steam of hot moccha. I realized that some of the important things in my life involves a huge amout of coffee. It served as the paint in my canvas of life.
1979, Province of Pangasinan, 4 years old
I greeted my Aunt Linat the usual pleasantries and found her busy managing the coffee pot at the kitchen. The coffee was made of roasted rice grains wherein its aroma filled the morning air. She took out an old jade-colored cup and filled it halfway, reminding me that I should not take too much, for I'm too young for it. I felt a jolt and found a new friend.
1982, at home
My first coffee cup was from the container of a Blend 45. My parents made me use this glass to discourage me from drinking coffee at a very young age,
1998, college student
Le Couer de France, SM West
Brought Liza,(not her real name)my girlfriend, to run away from our peers and have a private conversation on our own.
1999, college student
Cafeteria beside the University, theater class
Our theater class converges at this cafeteria where we enjoy cheap instant Nescafés prepared by an old couple. It's there where we hangout with our peers with coffee and smokes in hand. Aspiring to be another
Brocka
or
Bernal
.
2001, at home
Bought a coffee maker and tried to imitate the taste of The Coffee Experience with Liza. After a few months we broke up.
2002
Have a new relationship with Andrea. She just can't stand brewed coffee. All she needs are three cups of Nescafé Instant coffee, and her morning is complete. She only drinks coffee in the mornings. Seldom during the days entirety. And these are the mornings that we get to communicate without speaking.
2002, July
Became hyperacidic due to excess coffee, spices, and cigarettes. Could you imagine how my body reacts to those things that I ingest? So no more coffee for quite awhile. During those initial attacks Andrea thought that I had another woman at my place because of the squeak of my bed. Honestly, there was none. We parted our relationship that night, but got together after a few months. Who crawled back to whom? Hah!Me.
2003, October, SM Manila/Padis Point
Received the paycheck I got from my freelance work with an NGO. Guess what we did? we got our cappuccinos and devils cake at Figaro. Afterwhich, went to Padis Point where we drank beers for almost seven hours. By the way, that drinking binge started at around five. So you get to picture how much beers we consumed.
2005, Seattles Best E. Rodriguez, 9:25pm or later
I fetched her from work at Cainta. We were both tired from the day with our jobs and were slowly feeling to be distant towards each other because of our jobs. So we decided to grab some coffee and talk for awhile. We ended quiet the whole evening staring at the passersby and yawning the night away. It just didn't worked that night. And eventually broke up the following year.
2006, Starbucks Glorietta
It was the birthday of my godson. We celebrated it at the same area. I was fresh from a breakup with Andrea, but I could not find any reason not to enjoy myself. I invited a friend whom I would like to know better that time for some coffee, and she acknowledged. Had the usual chat and everything but nothing intimate. Just plain catching up. She ended not being able to sleep that night. Not because of thinking about me. But due to the caffeine. How I wish I was caffeine to keep women up all night.
2006, Starbucks Glorietta
(again)
After watching a movie, me and my blind date, Maria, decided to have coffee to end the night. She was persistent on taking the tab for our coffee, so I let her. She ordered tall frozen cappuccinos. The catch? I dont like my coffee cold. I want it painfully hot. She really enjoys her coffee but is suffering from hyperacidity too. So she battled tummy aches the whole night in her bed. While I watched TV lying at our couch at home. We still go out, but I no longer invite her for coffee.
2006, November, Starbucks Tomas Morato
Me and my cousins had a blast after watching The
DNA Rock
band at 70's Bistro. After the band's set, at around 1:30 am the following day, we agreed to continue our binge at Xymaca. Unfortunately, the band Brownman Revival had already ended their set. Nothing to do but have coffee. I was a trojan horse that night. The only one who ordered something that's hot. It's been awhile since we all got together. And that night was special because we were with ate Auvi, visited from the US, and my sis Ana Vic who is now based at Boracay.
2006, present day
Instant coffee while at work combined with
pan de sal
. I'm too lazy to brew the expired coffee from my former officemate Dona. I'm still waiting for the 3in1 coffee from Rachael...
Photo courtesy of Grayscale. Thanks, man.
0 Comments: